Venezuela-ALBA 4.19.2019 Escalating US Sanctions and Escalating Fightback

AFGJ Venezuela-ALBA News: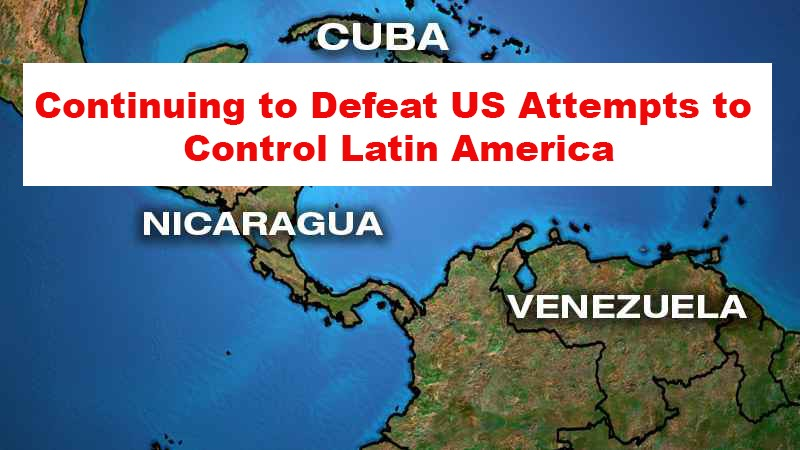 Venezuela
Tulsi Gabbard: Trump's Neocon Administration Want War in Venezuela
Action 24/7: Protection of the DC Venezuela Embassy Sign on: Sign onto the Declaration of the Embassy Protection Collective (Colectivos por la Paz)
Federico Fuentes: Who are Venezuela's colectivos?
Max Blumenthal: US Military Attack on Venezuela Mulled by Top Trump Advisors and Latin American Officials at Private DC Meeting
Pasqualina Curcio: "Imperialism Does Not Understand the Resistance of the Venezuelan People"
24 Tons of Medical Supplies Arrive Under Coordination Between President Maduro and the International Red Cross

Bolivia
Rightwing Bolivian Lawmakers Ask for US Intervention in their country in a Letter to Trump

Cuba
Cuban Five Hero Declares his Solidarity with Julian Assange
Cuban Revolutionary Government Declaration: The Cuban Revolution reiterates its resolute determination to confront the aggressive U.S. escalation, and prevail

Nicaragua
Live from Nicaragua: Uprising or Coup? A Reader

Ecuador and Julian Assange
How Ecuador's President Gave Up Assange

Events, Delegations, Webinars, Protests
Activists Occupying Venezuela Embassy in DC from rightwing oppositional forces
Eyewitness Venezuela: April 20 Livestream with anti-war leaders: Ajamu Baraka,
Gloria La Riva, Max Blumenthal, Medea Benjamin, others
April 19 Vancouver Protest at US Consulate & CBC – Hands Off Venezuela!
April 28 Miami: In Defense of Socialism; Hands off Venezuela, Cuba, & Nicaragua!
Gloria la Riva Eyewitness Venezuela speaking tour in different cities
Solidarity with Nicaragua! Webinar – Delegation Report Back Video; Part 2 Solidarity with Nicaragua! Webinar Series April 28

Late May Delegation to Venezuela with Anti-Sanctions Campaign: EndVenezuelaSanctions@gmail.com

Facebook Pages and Websites to follow Venezuela:
Venezuela Embassy Collective, Washington DC
Orinoco Tribune
End Venezuela Sanctions
Stand with Venezuela
Venezuela Solidarity New York
ALBA: Latin American Alliance
About the Weekly
It is AfGJ's conviction that we in the US defend Venezuela's sovereignty and recognize that the Bolivarian Revolution has improved the lives of its citizens, led the movement toward Latin America integration, and is building participatory democracy structures that are an example for us in the US as well. -AfGJ staff
Friends – we would like to include statements, events, and actions in solidarity with Venezuela. If you are aware of any or are planning any, please send them to us: stansfieldsmith100@gmail.com.
Receive the News from Venezuela Each Week-
for the Venezuela Weekly!
Like What we're doing? Please Consider making a Donation!